Propolis is a resinous substance of greenish-brown or brown color with a pleasant smell of poplar buds, honey, wax and vanilla. Due to antibacterial and antibiotic properties, wound-healing action, multi-sided immunological and antibacterial activity propolis is widely used in practice. In addition, it is effectively used as supplement in the treatment of wounds, diseases of the respiratory system, oral cavity, eyes, in the prevention and treatment of prostate diseases, diseases of the cardiovascular system and lungs. It improves vision, has a positive effect on the nervous system, improves memory and general physical condition, helps in skin burns, eczema. The effectiveness of the use of propolis during a month was scientifically proven in older people to improve the memory. Propolis stimulates the synthesis of nucleic acids in cells and thereby proteins.
Alcohol solution of propolis is taken 1 hour before eating with raw eggs or cooked flax and for the prevention of other diseases after eating (5 to 30 drops daily 2-3 times a day, dripping in water or milk), especially in tonsillitis. Alcohol solution of propolis is used to treat stomach ulcers and duodenal ulcer in flax seed extracts for 3-5-week course. The positive effect was observed for hemorrhoids with periodic bleeding. It is used in drops and for local application, mixed with cocoa oil.

Propolis alcohol tincture is also used as follows: Linen cloth can be wet with alcohol solution of propolis and applied on the enlarged nodes, varicose veins of legs.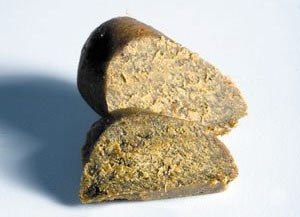 To make propolis from buds of poplar, birch, aspen and other plants bees collect sticky resinous substance. Bringing them into the hive, they mix them with wax and secretions of internal glands. This forms propolis. It is the reason why various microorganisms almost never occur in the hive. This property was noticed long ago - in ancient Egypt propolis was used in the manufacture of medicines.
Propolis is the strongest natural antibiotic. It kills more than 100 species of bacteria, fungi and viruses (including pathogens causing tuberculosis, syphilis, diphtheria, influenza etc.). If the microbes sooner or later get used to synthetic antibiotics, they can not get used to propolis. In addition, synthetic antibiotics kill not only harmful but also useful microflora, which may cause new diseases. But in the treatment with propolis it is not observed.
Propolis is extremely strong analgetic agent. It exceeds novocaine 5 times by the strength. It contains 30% of phenolic compounds that prevent aging, cancer. Propolis is effective in treating of benign prostatic hyperplasia, hemorrhoids, prostatitis and other diseases.