Apitherapy is a treatment of diseases with the use of live bees and hive products.
Sleeping on beehives is a reality! Our apiary, located in Lviv region, Striy district, village Lysyatychi, provides sleeping on beehives. The air of beehive is saturated with propolis biologically active substances, which have antimicrobial properties. This natural antiseptic selectively acts on microorganisms in human body: it neutralizes harmful microorganisms, and preserves useful ones, and helps to normalize metabolism. Sleeping on beehive is very useful.
Indications
Main indications: reduced immunity, circulatory disturbances, diseases of the endocrine and nervous systems, high or low blood pressure, cardiovascular diseases and musculoskeletal system diseases, stress and depression.
Apitherapy is nothing but a therapeutic vibromassage. And effect of microvibrations is a necessity, the doctors add. Although sleeping on beehives is not a panacea for all diseases, however, sleeping on beehives has the corresponding effect on the human body. Only strong and healthy bee families are used, especially during apitherapy. Beekeepers from Lviv say that sleeping on beehives can be started from March until the end of September. Treatment with bees is useful for people of any age. Restoring the body during this procedure takes almost 2-4 hours. Microwaves are slightly perceptible. The effect is mild.
Benefits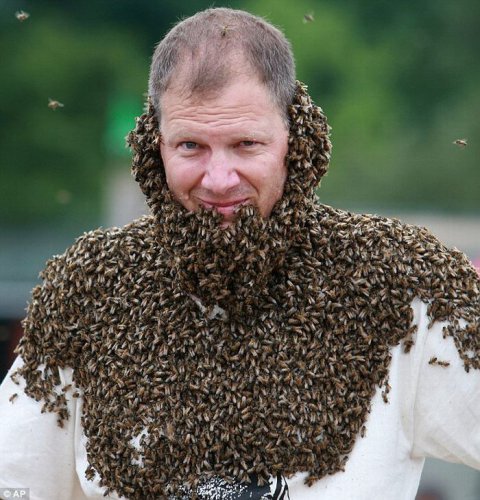 Treatment with bees restores blood circulation and stabilizes blood pressure; sleeping in the same room, where bees work actively, restores the strength and immunity. Clean and healthy air comes through a fine mesh of bee home. It is very suitable for inhalations. Most microbes in bronchi and lungs are killed during ten minutes of inhalation. Near the beehive the air is high-ionized, so getting into the body it reduces the level of free radicals. And also strong biomagnetic field comes from the bee family that normalizes all body functions and improve immunity. Is takes just an hour or two to fully recuperate. And the monotonous hum of bees perfectly soothes the psyche. The main indications for therapy with beehives are the following diseases and painful conditions: reduced immunity, circulatory disturbances, diseases of the endocrine and nervous systems, high or low blood pressure, cardiovascular diseases and musculoskeletal system diseases, stress and depression.
The meaning is that natural heat (approximately 35°C) is released from bee swarm in the beehive, and the bee buzzing and small vibration of the beehive positively impact on the whole body. Sleeping on beehive works well on the joints and blood vessels, they are cleaned, sleeping on beehive increases male potency.

In addition to sleeping on beehive, the wide selection of honey products (honey, pollen, beebread, tincture of dead bees, propolis, etc.) from our apiary are available for you.
Sleeping on beehive
Sleeping on beehive is a great complex therapy for the whole body, based on close contact with bee family. This is a huge biological magnetic field that aligns violations of human electromagnetic field, which cause various diseases. A large positive impact on human body has not only "live" heat of bee family, but also micro vibrations, created by bee wing's strokes, acting as vibromassage, which, in its turn, positively acts on the nervous, circulatory, muscular system, creating conditions for self-adjustability of body organs functioning. Therapy with beehives improves activity of cardiovascular system (stabilization in blood pressure, improvement of cerebral and peripheral circulation, increased cardiac output), endocrine and nervous systems (harmonization of balance of sympathetic and parasympathetic nervous system, optimization of exchange processes), respiratory system (due to inhalation of air from beehive saturated with phytoncids, propolis, and wax). In addition, psycho-emotional status of a person improves that is reflected in the physical and emotional relaxation, increased working efficiency, increased cleaning and regeneration of tissues, increased immunity and responsiveness and adaptogenicity of the human body.
Bee venom therapy (also called bee sting therapy)
Bee venom is a highly-active substance that requires caution in appointment. Bee venom is indicated for person based on sensitivity to the venom, severity and type of disease.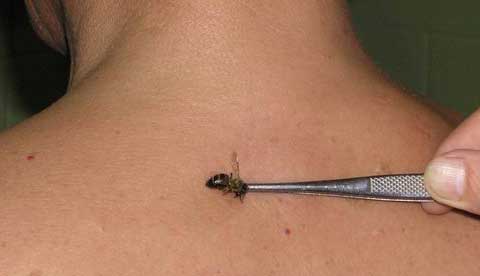 Bee venom is a thick colorless liquid with honey smell. Induction of bee venom into the human body can be performed by sting, rubbing, electrophoresis, inhalation and ingestion. The most effective and commonly used method is the method of bee sting. Effects of bee venom on human body depend on the amount of sting and individual reaction to bee venom. In therapeutic doses bee venom is a good medical product for many diseases; it has anti-inflammatory and analgesic action. Bee venom is often used to reduce pain and inflammation in joints and muscles, in rheumatism, neuralgia, hypertension etc. Bee venom even helps to remove acute pains in joints and restore their mobility.
Method of bee sting
Before starting the procedure of bee sting make sure to test human sensitivity to bee venom. Bioassay test is often carried out for this purpose. The skin is carefully cleaned in the lumbar region and a bee is put into this place for a bee sting. A stinger is pulled out very quickly, to allow the minimum dose of bee venom get into the body. The next day urine analysis is carried out to test the protein and sugar levels. Then the second bioassay test is carried out, in which a bee sting is is pulled out in about a minute. The next day urine analysis is caried out again. Treatment can be started, if no changes in the body are observed. To conduct the procedure bee is taken on the back using special tweezers and is applied on the belly side to the desired location. The selected skin area has to be thoroughly cleaned before the procedure. After a sting the stinger is removed in 5-10 minutes. After the procedure the patient is recommended to lie down for about 20-30 minutes. The patient should have his/her blood and urine tested in the course of treatment once a week to control his/her condition.
The most common treatment is as follows: just one bee sting is conducted on the first day, two bee stings - on the second day, and every day one more bee is added for bee sting. Such treatment usually lasts 10 days, after which you need to take a break for 3-4 days. Then you can repeat the course and take three times more bees. For two courses you can use up to 200 bees. If after the whole treatment course the recovery does not occur, then bee sting is not carried out.

Choice for a place for a sting depends on the nature of the disease. Commonly bee sting is conducted on the outer surface of the shoulders and hips, the places are changed daily so that stings are repeated in the same place in 4-5 days.

Bee venom is not recommended for use in acute infectious diseases, diabetes mellitus, malignant tumors, tuberculosis, hepatitis, pregnancy etc.
Beebread
Hive products are unique in their biological value. They are the richest according to the content of bioactive compounds of all known natural products.
One such most valuable product is beebread - a product of pollen processing by bees. The latter, in its turn, is collected by bees from the flowers of plants, brought into the hive and put into combs. Further, under the influence of complex biochemical processes and direct participation of bee, pollen is conserved and beebread is formed, which significantly prevails over pollen for its medicinal properties and biochemical composition. Beebread plays an important role in the life of bees. An indispensable source of amino acids and vitamins is necessary for the development of normal physiological processes. Beeb read contains all the essential amino acids, required for the human body, lipids, a lot of vitamins: A, E, C and vitamins of group B. Beebread is rich in minerals such as potassium, calcium, phosphorus, magnesium, and others. It contains a unique complex of proteins, carbohydrates, fats, minerals, enzymes, phytohormones, natural antibiotics. They are all balanced and organically linked, which explains its high curative effect.

Ambrosia is used to treat a wide range of diseases - anemia, heart failure, heart attacks, stroke, hepatitis, gastric ulcers, gastritis, potency disorders, male infertility, pregnancy pathology, gynecological diseases. Beebread restores blood circulation of the brain during traumatic brain injuries and strokes, resolves benign tumor (myoma, fibroma).

Beebread is most commonly used to improve immunity in both children and adults!

Beebread is a preventive measure, helping to prevent infectious diseases, and has positive effect on the cardiovascular system. Beebread has no analogues for its microbiological composition - in a short time it restores digestion, treats dysbacteriosis.

Beebread promotes the formation of new cells in the body that is rejuvenescence of organism, faster healing wounds. Beebread is taken 0.5-1 tea spoon 1-2 times a day 20 minutes before eating. It is recommended to consume it on an empty stomach in the morning and before going to sleep slowly dissolving it without drinking.

No laboratory can create such products which humanity receives from the irrepressible toilers-bees. Any artificial mixtures of vitamins or mineral substances could never be able to replace what the nature offers us.
Propolis alcohol tincture
Propolis is a resinous substance of greenish-brown or brown color with a pleasant smell of poplar buds, honey, wax and vanilla. Due to antibacterial and antibiotic properties, wound-healing action, multi-sided immunological and antibacterial activity propolis is widely used in practice. In addition, it is effectively used as supplement in the treatment of wounds, diseases of the respiratory system, oral cavity, eyes, in the prevention and treatment of prostate diseases, diseases of the cardiovascular system and lungs. It improves vision, has a positive effect on the nervous system, improves memory and general physical condition, helps in skin burns, eczema. The effectiveness of the use of propolis during a month was scientifically proven in older people to improve the memory. Propolis stimulates the synthesis of nucleic acids in cells and thereby proteins.

Alcohol solution of propolis is taken 1 hour before eating with raw eggs or cooked flax and for the prevention of other diseases after eating (5 to 30 drops daily 2-3 times a day, dripping in water or milk), especially in tonsillitis. Alcohol solution of propolis is used to treat stomach ulcers and duodenal ulcer in flax seed extracts for 3-5-week course. The positive effect was observed for hemorrhoids with periodic bleeding. It is used in drops and for local application, mixed with cocoa oil.

Linen cloth can be wet with alcohol solution of propolis and applied on the enlarged nodes, varicose veins of legs.
To make propolis from buds of poplar, birch, aspen and other plants bees collect sticky resinous substance. Bringing them into the hive, they mix them with wax and secretions of internal glands. This forms propolis. It is the reason why various microorganisms almost never occur in the hive. This property was noticed long ago - in ancient Egypt propolis was used in the manufacture of medicines.
Propolis is the strongest natural antibiotic. It kills more than 100 species of bacteria, fungi and viruses (including pathogens causing tuberculosis, syphilis, diphtheria, influenza etc.). If the microbes sooner or later get used to synthetic antibiotics, they can not get used to propolis. In addition, synthetic antibiotics kill not only harmful but also useful microflora, which may cause new diseases. But in the treatment with propolis it is not observed.
Propolis is extremely strong analgetic agent. It exceeds novocaine 5 times by the strength. It contains 30% of phenolic compounds that prevent aging, cancer. Propolis is effective in treating of benign prostatic hyperplasia, hemorrhoids, prostatitis and other diseases.
Alcohol tincture of dead bees.
Dead bees enhance immunity; in chitinous cover of bee the scientists have found valuable chemicals, such as heparin and heparoids. They are able to suppress inflammation, stabilize blood pressure, and have therapeutic action on the blood, condition of blood vessels.

What do dead bees mean? It is sad, but dead bees mean the bodies of dead bees. Usually it can be of three kinds: winter - one that is taken away from the beehives during the winter, spring - collected near the beehives and bodies of dead bees remaining after treatment with bee sting.

In chitinous cover of bees the scientists have found valuable chemicals, such as heparin and heparoids. They are able to suppress inflammation, stabilize blood pressure, and have therapeutic action on the blood, condition of blood vessels.

Purification of the human body. Take an amount of drops of alcoholic tincture equal to your age, divided drops in two parts, 2 times a day immediately after eating in a small amount of water for a month. Repeat the course every six months.

Tincture of dead bees is used to stabilize blood pressure, in cardiovascular diseases, kidney diseases, diseases of brain vessels, for the treatment of benign prostatic hyperplasia and sexual dysfunction - impotence and frigidity. In these diseases the tincture of dead bees is intended to be taken by 15-20 drops after meals for 1-2 months.

Tincture of dead bees is also used for the prevention of dementia, improvement of the immune system. It is prescribed in a dose equal to one drop per year of life (for example, a patient is 50 years old, so he/she should daily take 50 drops of tincture). Are you willing to improve your health and increase your efficiency? Do you want to get professional advice from a beekeeper on the application of hive products to improve the immune system, not to get sick and enjoy your life? Dead bees are just bodies of dead bees. The maximum amount of dead bees in the apiary is during the spring check of bee families, at this time it's best to prepare it for the future.

Keep in mind that you can not use all dead bees, but one that is well preserved, is enough fresh, dry, with no mold and signs of disintegration. Due to antibacterial and antiviral properties it inhibits the activity of certain microorganisms, protecting the body from viral infections.
Dead bees restore the biological balance of the body by purification and regulation of metabolism, increase resistance to adverse external influences. Antioxidant properties of dead bees allow it to neutralize toxic compounds, preventing mutations at the cellular level, slowing the aging processes in the human body.

Dead bees prevent atherosclerosis, strengthen blood vessels, and reduce discomfort in the heart area. It purifies the intestines, normalizing its flora, regulates gastric acidity, and has antiulcer action. In addition, it is used in the treatment of mastitis and panaritiums, in joint pain, benign prostatic hyperplasia, impotence and frigidity. Alcohol extract of dead bees is used to stabilize blood pressure, in case of heart diseases, kidney diseases; diseases of brain vessels (take 15-20 drops of extract after meals for 1-2 months).
Elderly people should take it daily for 6-12 months at a dose equal to one drop per year of life (70 years of age - 70 drops of extract).
Alcohol tincture of wax moth
Quality of our tincture is life worth living of our customers after heart attacks, tuberculosis, diabetes mellitus, despite the fact that daily course costs are REASONABLY LOW COMPARING TO ITS HEALING PROPERTIES.

Wax moth larvae extract is a strong immunomodulator. It has a strong protective effect on the respiratory system, improves drainage function of bronchi and therefore is effective in treatment of bronchitis, pneumonia, asthma, allergies and even tuberculosis.

The extract is an antibacterial and antiviral drug of broad spectrum of action. The established antiviral and bactericidal activity of the drug, including activity against tuberculosis pathogens due to cerasa enzyme, able to destroy the fat-wax shell of the pathogen. Therefore, it is important to take this medicinal product during the high incidence of respiratory diseases and flu epidemic in autumn and winter. An important aspect of revitalizing action of this dietary supplement is in its positive impact on metabolism: blood sugar level decreases, fat in the liver and on the blood vessel walls does not deposit, the level of cholesterol decreases. The antioxidant action was established, preventing stressor tissue damage and atherosclerosis development, so the drug is effective as a cardioprotective agent for prophylaxis and supportibe treatment of ischemic heart disease. The product contains the serine protease enzyme that has a strong absorbing effect, preventing adhesions and scarring. That makes it very useful after extensive inflammations, suppurations and surgical interventions. Amino acids of the product protect the body from radiation and intoxication, as well as eliminate heavy metals and toxins. The drug is used in treatment of benign prostatic hyperplasia, it increases endurance and speed of muscle recovery after serious illness, promotes growth and restoration of tissues, absorption of calcium, increases the energy of the body, increases the synthesis of hemoglobin. All this is necessary to people, engaged in hard physical labor, as well as in restoring period after injuries and surgeries. The positive psychotropic effect was established in form of improvement of mood, memory and learning ability. This makes the drug beneficial to people engaged in strenuous mental work.

In pediatrics the extract is successfully used in treatment of chronic bronchopulmonary diseases, when conventional treatment (antibiotics or other chemotherapeutic methods) con not give a positive result. Coughing and fever disappear in children only in a few days, blood counts come to normal (hemoglobin level in red blood cells increases, leukocyte formula becomes normal), immunity restores.

The drug is effective for TB disease in children.
Alcohol wax moth larvae extract is widely used in obstetrics and gynecology for the treatment of menopausal disorders, infertility (prematurity), it perfectly eliminates anemia in pregnant women (in toxicosis of the first half period of pregnancy). Due to this drug hundreds of women have experienced the joy of motherhood, given birth to healthy children.
Take 20-30 drops of extract in water 3 times a day for 15-20 minutes before meals.
Use in children: 1.5 drops per 1 year of life and 3 times a day before meals.
For example, a 6-year old child should take 9 drops for one time.
Pollen
Externally, the pollen is a very fine powder. It is a product from anthers, surrounding the pestle of the flower. What are the medicinal properties of pollen?

Experiments have shown that pollen has all the essential amino acids that must be ingested with food. In nature there is no analogue of food comparable with pollen on the concentration of the components, required for normal development and functioning of the body. In pollen were found 14 vitamins, 18 minerals, 30 trace elements, 22 amino acids, proteins, sugar, fats, carbohydrates, nucleic acids, enzymes, phytoncids, hormones, antibiotics and other important substances for the body. All these ingredients are organically linked and balanced with each other.

Pollen stimulates the growth and regeneration of damaged tissues, such as blood-forming tissues. Therefore, it is used in anemia. Especially effective action has a mixture of pollen and honey in a variety of liver diseases. Pollen normalizes the activity of the nervous and endocrine systems. It activates insulin release process in pancreas cells; therefore it is used in the treatment of diabetes mellitus. In addition, pollen strengthens capillaries, reduces blood cholesterol level, has anti-sclerotic properties (therefore it is used, for example, in the treatment of ischemic heart disease) has choleretic, diuretic, antiradiation, antitumor activity, retards the growth of microorganisms of the intestine and regulates its function. Pollen stimulates the immune system, increases appetite and normalize body weight, increases mental and physical ability to work, enhances libido and male sexual activity.

Also, this hive product enhances the action of many medications. Thus, its use in combination with antibiotics can reduce their dose; moreover, pollen sometimes replaces antibiotics. In addition, the pollen does not cause allergic reactions. However, the biological activity of pollen quite rapidly decreases during storage. Thus, even after two or three months after collecting it loses a significant portion of vitamins and enzymes. If preserved with honey and powdered sugar it preserves better. However, pollen au naturel is not fully digested.
Honey comb capping
The reserves of honey and beebread are covered (sealed) with special wax caps — comb capping, a kind of quality mark. This helps to keep food of the bees for a long time and not to get spoiled.
The structure of comb capping includes a special substance with from wax and enzymatic glands of bees, propolis and pollen. Therefore, comb capping prevails over conventional wax for its antibacterial properties. This fragrant "bouquet" of hive products is a special combination of natural biologically active substances, which mutually enhance its therapeutic effect.

Infectious and viral diseases of the nose, throat and respiratory tract are successfully treated with comb capping.

Note! Comb capping is also helpful in hay fever - allergic disease caused by inhaling of pollen.
The treatment of inflammation of the paranasal sinuses with comb capping can also have a positive effect. It is recommended to chew comb capping every hour during 15 minutes within 4-6 hours. Then the chewed mass is discarded. One course of treatment during the day will be enough in acute inflammation of the paranasal cavity mucosa.
In mild form of the disease, it is recommended to chew the wax caps once per day (on Mondays, Wednesdays and Fridays every week). It helps to prevent running nose, you will be able to breathe through the nose.

Moderately severe fever should be treated as follows: chew comb capping 5 times a day during the first two days and then - 3 times a day according to your state of health.

In severe hay fever folk medicine recommends:
3 months before the possible onset of the disease take 1 table spoon of honey after every food intake.
2 weeks before the expected onset of the disease take a mixture of 2 teaspoons of honey and 2 teaspoons of apple vinegar diluted with 0.5-1 glass of water before breakfast and before going to sleep. This mixture should be taken until symptoms disappear.
If necessary chew comb capping as often as possible during the day to avoid running nose.
This product does not cause allergies. Chewing comb capping improves the secretory and motor activity of the stomach, metabolism, blood circulation, improves physical performance, strengthens the gums.

To avoid chronic rhinitis, hay fever in children, they should chew comb capping from autumn to spring. If comb capping becomes dryish (honey will run out of it), you can add the liquid honey to it.

Physicians recommend to chew 1 tablespoon of comb capping during 5-10 minutes 4 times a day. Overdose causes no negative consequences, as accidental ingestion - comb capping is easily digested and good for the gastric mucosa.
Tips for treatment
Ischemic heart disease, myocarditis, heart failure
Take 0.5-1 teaspoon of pollen 2-3 times a day 30 minutes before eating. Mixture of pollen and honey is also very useful (1 teaspoon of pollen - 0.5 teaspoon of honey). Take it before eating 1 table spoon (keep in the mouth until it will be dissolved) 2-3 times a day.
Combine the treatment with taking prescribed herbal infusions from these diseases.
Gastric ulcer and duodenal ulcer, gastritis with hyperacidity
Mix pollen in the ratio 1: 1, dilute 1 dessert spoon of mixture in 50 g of boiled water and leave for 2-3 hours. Take the infusion warm (it reduces hyperacidity) 1 dessert spoon 3-4 times a day. Duration of treatment - 3-4 weeks. The result will be best if additionally taken herbal infusions, which are indicated in peptic ulcer and gastritis with hyperacidity.
... with hypoacidity
Mix pollen with honey in the ratio 1: 1, dilute 1dessert spoon of mixture in 50 g of boiled water and leave for 2-3 hours.
Drink this solution cold, it helps to release gastric juice and increses acidity, 3 times a day before eating. Duration of treatment - 1 month. Repeat the course after a 10-day break. Effectiveness of treatment can be enhanced by taking herbal infusions, which are indicated in gastritis with hypoacidity.
Diabetes mellitus
Take 0.5 teaspoon of pollen 3 times a day 15-20 minutes before eating. The best is to keep in the mouth until it will be dissolved. 20 min. after eating drink decoction of a mixture of the following herbs: dandelion roots - 35 g; common blueberry, leaves - 35 g; common nettle, leaves - 30 g.
Grind herbal preparation, mix, take 2-3 table spoons of this mixture add 0.5 l of boiled water and leave for 2-3 hours, drink 0.5 glass in 20 minutes after taking pollen and 30 minutes before eating.
Chronic kidney disease
Mix pollen and honey in the ratio 1:1. Take 1 teaspoon 3 times a day, dissolving in the mouth. Course - 1.5 months, repeat the course of treatment after 3-week break. It's very good to drink simultaneously herbal preparations, indicated in these diseases.
Cerebral concussion, brain disorders
Take 0.5 teaspoon of pollen 3 times a day before eating and drink 1 teaspoon of hawthorn tincture 3 times a day.
Respiratory diseases
Dissolve in the mouth 0.5 teaspoon of pollen mixed with 0.5 teaspoon of honey, 3 times a day before eating. At the same time (but only 30 min after administration of the mixture) drink decoction of foalfoot, lime blossom, marshmallow root. Take herbs in equal proportions, grind and stir. Add 1.5 l of boiled water into 3 table spoons of mixture and leave for 3 hours, take preferably warm infusion 0.5 gl. before eating.
Colitis, chronic constipations, diarrhea
Pour 800 ml of cold boiled water in an enamel bowl, dissolve in it 180 g of honey, and, stirring constantly, add 50 g of pollen. Leave obtained mixture for a few days (until signs of fermentation occur) at room temperature.
Take 1/2-2/3 glasses of the mixture three times a day before eating for 1-1,5 months. You can take onle the pollen - a teaspoon three times a day before eating for 1-1,5 months.
Hypertension
Mix well bee pollen and natural honey taken in a ratio of 1:1 or 1:2, and take one dessert spoon, dissolving in the mouth, half an hour before eating three times a day for 1.5-2 months.
In senile weakness
Take a teaspoon of pollen 15-30 minutes before eating three times a day for 1-1.5 months.
Liver disease
Mix one teaspoon of pollen with a tablespoon of honey and drink after lunch. Duration of treatment - 1-1.5 months.