Quality of our tincture is life worth living of our customers after heart attacks, tuberculosis, diabetes mellitus, despite the fact that daily course costs are REASONAVLY LOW COMPARING TO IT HEALING PROPERTIES.
Wax moth larvae extract is a strong immunomodulator. It has a strong protective effect on the respiratory system, improves drainage function of bronchi and therefore is effective in treatment of bronchitis, pneumonia, asthma, allergies and even tuberculosis. The extract is an antibacterial and antiviral drug of broad spectrum of action. The established antiviral and bactericidal activity of the drug, including activity against tuberculosis pathogens due to cerasa enzyme, able to destroy the fat-wax shell of the pathogen. Therefore, it is important to take this medicinal product during the high incidence of respiratory diseases and flu epidemic in autumn and winter.
An important aspect of revitalizing action of this dietary supplement is in its positive impact on metabolism: blood sugar level decreases, fat in the liver and on the blood vessel walls does not deposit, the level of cholesterol decreases. The antioxidant action was established, preventing stressor tissue damage and atherosclerosis development, so the drug is effective as a cardioprotective agent for prophylaxis and supportibe treatment of ischemic heart disease. The product contains the serine protease enzyme that has a strong absorbing effect, preventing adhesions and scarring. That makes it very useful after extensive inflammations, suppurations and surgical interventions.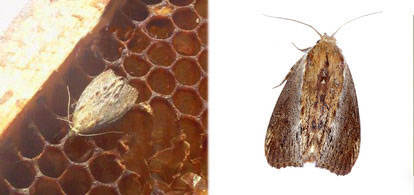 Amino acids of the product protect the body from radiation and intoxication, as well as eliminate heavy metals and toxins. The drug is used in treatment of benign prostatic hyperplasia, it increases endurance and speed of muscle recovery after serious illness, promotes growth and restoration of tissues, absorption of calcium, increases the energy of the body, increases the synthesis of hemoglobin. All this is necessary to people, engaged in hard physical labor, as well as in restoring period after injuries and surgeries. The positive psychotropic effect was established in form of improvement of mood, memory and learning ability. This makes the drug beneficial to people engaged in strenuous mental work.
In pediatrics the tincture of wax moth is successfully used in treatment of chronic bronchopulmonary diseases, when conventional treatment (antibiotics or other chemotherapeutic methods) con not give a positive result. Coughing and fever disappear in children only in a few days, blood counts come to normal (hemoglobin level in red blood cells increases, leukocyte formula becomes normal), immunity restores.
The drug is effective for TB disease in children.
Alcohol wax moth larvae extract is widely used in obstetrics and gynecology for the treatment of menopausal disorders, infertility (prematurity), it perfectly eliminates anemia in pregnant women (in toxicosis of the first half period of pregnancy). Due to this drug hundreds of women have experienced the joy of motherhood, given birth to healthy children.
Take 20-30 drops of extract in water 3 times a day for 15-20 minutes before meals.
Use in children: 1.5 drops per 1 year of life and 3 times a day before eating (for example, 6-year-old child - 9 drops per one administration)